Amanda Montgomery

Amanda started Hummingbird Gardens in 2015 in her front yard, ripping it up and planting herbs and flowers near Bon Air. In addition to the front yard, two more yards will be turned into mini flower farms this year. The HBG yard is also a Certified Wildlife Habitat. In addition to bouquet subscriptions (called Flower Club), bucket deliveries to businesses (Blooms for Businesses), and DIY Bride flower buckets, Hummingbird Gardens also creates handmade culinary herb salt blends utilizing the herbs that grow in the garden.
Stephanie Webber

Blue Eye Flowers was named with my parents in mind. After the loss of my mother I had a revelation of sorts when I came to the conclusion that I could take my love for growing and turn it into something that not only brings me great joy but others as well. Blue Eye Flowers is a small flower farm run primarily by me, Stephanie, with help from my husband and daughter. We only use organic means to combat pests and disease and encourage beneficial insects. Blue Eye Flowers offers cut flowers for sale in bouquet subscriptions and direct to local florists. Knowing that my flowers are in a brides bouquet on her special day makes me immensely proud.
Mason Moomaw

Mason was raised working on a flower farm along with his 5 siblings in Lynchburg, VA. This upbringing instilled a strong connection to the soil and all the creatures that come with it. Wanting to return to his roots, Mason started Burst and Bloom in 2017. Burst and Bloom focuses on dahlias for the time being, and mostly sells by the stem to local florists, floral designers, DIY brides, and other local businesses. Burst and Bloom also holds rotating retail hours out of a walk-in cooler in Richmond's Oregon Hill neighborhood.
Eileen Waugh

Everyone knows The Waltz of the Flowers but have you seen the Phloxtrot? Flowers that make you want to dance (like grandma did). We are a husband and wife homestead located in Maidens, VA. I'm Eileen, the head gardener aka school social worker and former ballerina who simply loves weeding. Having worked on various local farms, school, and community gardens for over 10 years, I never understood why people wasted their time growing more than a few frivolous flowers, and not food in their garden. Until one day, my flowers made someone's day. Since then, it's become our mission to grow happiness and share it with the community. Flowers by the bucket or bouquet will soon be available on RVA's first Flower Truck, coming this Spring!


Powered by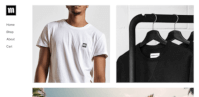 Create your own unique website with customizable templates.